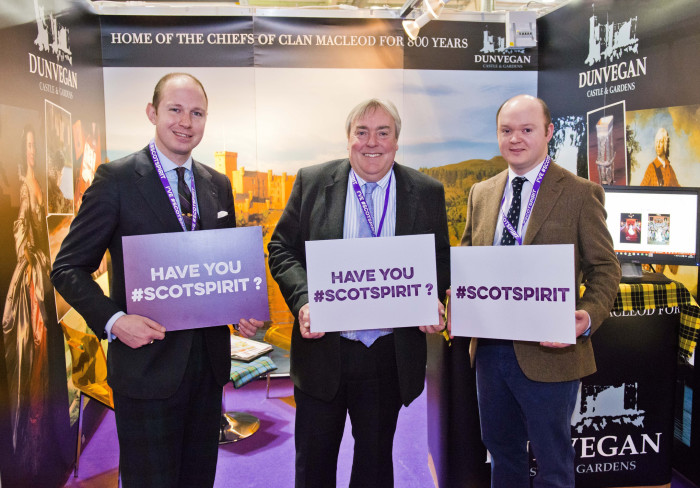 Dunvegan Castle & Gardens receives 5 Star Quality Assurance Award from Visit Scotland
Receiving this prestigious award from VisitScotland at Expo is confirmation that Dunvegan Castle & Gardens has recovered its rightful place as a world class heritage attraction on the Isle of Skye.
Hugh MacLeod, Estate Director, said: "This 5 star award is wonderful news. It recognises all the hard work and dedication of the MacLeod Estate team and the positive impact of the rolling programme of major capital investment in Dunvegan Castle and the wider estate since 2008. These numerous improvements include the restoration of the castle's roof, windows, collection and interior state rooms, extensive landscaping works in the castle gardens, a new main gate ticket office, refurbishment of the MacLeod Tables Cafe, Gift, Castle and St Kilda shops and a resurfaced car park and landscaped extension area. This award also recognises the legacy of my late father who had the vision to see that in order to Hold Fast in the modern world, Dunvegan had to adapt from being a medieval fortress designed to keep people out to a place focused on welcoming people in. Since those early make or break days in the 1960s, our dedicated team have extended a warm Highland welcome to millions of visitors which has the beneficial ripple effect of underpinning many Skye businesses that rely on the crucial visitor spend that generates."
Scott Armstrong, VisitScotland Regional Partnerships Manager, said: "Dunvegan Castle & Gardens have worked hard to achieve this Five Star status and their achievement can also inspire other local tourism businesses to strive for this success. Our Quality Assurance scheme helps businesses to reach their full potential and truly shine. The scheme is about more than just the 'stars' on the door – it's about the entire visitor experience, about investing in your business and making it as economically sustainable as it can possibly be."
This award will help reinforce the estate's mission to preserve the heritage of the Macleod Estate by being commercially successful in all we do to enable continuous reinvestment and to develop and share the unique history of Dunvegan Castle & Gardens with our visitors.
Pictured at VisitScotland expo in Edinburgh are (L-R): Jeroen Roskham, Dunvegan Castle custodian; Malcolm Roughead, VisitScotland Chief Executive; and Iain Langlands, Financial Director for MacLeod Estate. Also pictured is Hugh MacLeod, Estate Director of MacLeod Estate at Dunvegan Castle.
For more information, visit www.dunvegancastle.com